Bio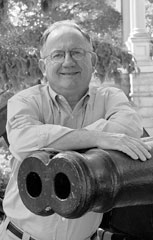 Gary L. Doster, a native of Athens, Georgia, is the author of From Abbeville to Zebulon, Early Post Card Views of Georgia and A Post Card History of Athens, Georgia. He is also the author of six other Georgia history books. He is a certified wildlife biologist and has worked for the Southeastern Cooperative Wildlife Disease Study at the University of Georgia since 1965. Gary L. Doster has a lifelong interest in Georgia history and has ancestors from Oglethorpe County, Georgia, dating back to the 1790′s. He is married to the former Faye Ann Thomas of Oconee County, Georgia.
Books
Upcoming Events
Click here to view upcoming events featuring this author.
Past Events
2012
Thursday, October 18, 2012 – Tallahassee, Fl. – Tallahassee Historical Society meeting. 7 pm at Governor Martin House. For more info visit tallahasseehistoricalsociety.com
Tuesday, December 11, 2012 – Athens, Ga. – University of Georgia OLLI class. Details TBA
2011

Tuesday, September 27, 2011 – Lexington, GA – Monthly meeting of Historic Oglethorpe, Inc.  7:30 p.m. Downstairs in the County Commissioners' Building on Main Street (next to the tag office).
Sunday, October 2, 2011 – Lexington, GA – Presentation at 4 p.m. at Oglethorpe County Library [ Hwy 78]. Caravan from library at 5 p.m. to Jewel family homesite and cemetery on Bull Bray Road to visit gravesite of

Sallie Jewel

and her family.
Thursday, October 6, 2011 – Watkinsville, GA – Monthly meeting of  the T.R.R. Cobb Camp Sons of Confederate Veterans,  7:30 p.m.,  Watkinsville Community Center, VFW Drive.
Tuesday, October 11, 2011 – Tallahassee, FL – Monthly meeting of Finley's Brigade, Camp 1614,

Sons of Confederate Veterans

at Gold Corral Restaurant, 1630 N. Monroe Street at 6:30 pm.
Sunday, October 16, 2011 – Athens, GA – Quarterly meeting of the Athens Historical Society, 3:00 p.m., at Cook & Brother Armory [Chicopee Building owned by UGA]
Wednesday, October 26, 2011 – Athens, GA – 

UGA Bookstore

, 3 p.m. 

UGA Faculty & Staff

Authors Reception sponsored by

UGA Alumni Association

and

UGA Bookstore

.