Lieutenant Colonel Jeb Stuart wrote to his wife, Flora, in June 1861 that he and his cavalry were operating near Winchester, Virginia protecting Confederate troops commanded by General Joseph E. Johnston. The big question of the time for Southern men was – Do you support and bear arms for your state against the Union? Do you support secession? The excerpt below reflects what Stuart thought and also shows why reading the words of participants in a historical event gives proper perspective.
Letter by Lt. Colonel J.E.B. Stuart to My Darling Wife,  The Old Tree (Camp near Winchester) June 11th, 1861
"Old George H. Thomas is in command of the Cavalry of the enemy. I would like to hang him as a traitor to his native state."  [George H. Thomas was a native Virginian and graduated from West Point in 1840. He remained with the U.S. Army when the Civil War began and later was promoted to major general. See Thomas bio at Civil War Trust]
Stuart excerpt from The Letters of General J.E.B. Stuart, edited by Adele Mitchell, Stuart-Mosby Historical Society, 1990
FEBRUARY 2017 SPECIAL – BUY copy of Stuart's Finest Hour at discount of $27.95 and receive FREE a Jeb Stuart bookmark and a FREE copy of Southerners at Rest: Confederate Dead at Hollywood Cemetery where General Stuart is buried!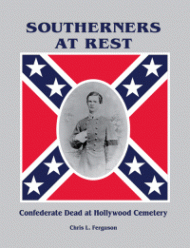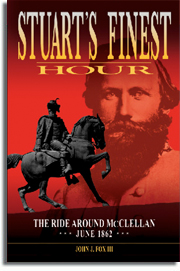 Stuarts Finest Hour description